Karl Harmenberg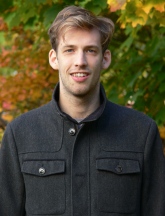 Room: A851
Telephone: +46 (0)8 16 30 59
Telefax: +46 (0)8 16 14 43
Email: karl.harmenberg@iies.su.se

Karl Harmenberg joined the IIES as a graduate student in the fall of 2013, prior to which he pursued graduate studies at Stockholm School of Economics. He holds an AB in mathematics from Harvard University and has previously worked as a research assistant at Sveriges Riksbank. His primary area of interest is macroeconomics. In his spare time, he enjoys fencing.
Recent paper:

A Note: The Effect of Assortative Mating on Income Inequality (156 Kb)
Last updated: June 11, 2015
Page editor: Hanna Weitz
Source: IIES