In memoriam - by John Hassler & Per Krusell
On Friday, August 28, 2020 – on the last day of the EEA Congress – the Swedish economist Assar Lindbeck passed away. He was EEA's 6th President, in 1991, and he was a major contributor to economic research as well as to public policy debate. He will be sorely missed.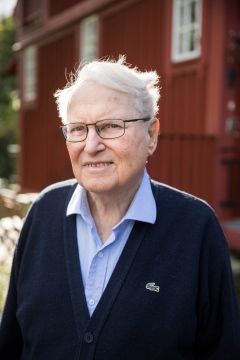 Assar Lindbeck was a man of multiple talents; not only did he play the clarinet and the piano as well as compose classical music, but he also painted. His last exhibition took place only months before his ninetieth birthday. Beginning at an early age, he was deeply engaged in societal debate and politics. Economics became his main specialization, despite tempting opportunities to pursue a career both in music and in politics. (Painting was a hobby; he was self-taught.)
His contributions to economic research almost always had a strong policy orientation. They tended to focus on challenges particularly relevant to European economies, such as his work on labor unions and insider-outsider analysis. His publications – comprising journal articles, books, chapters in edited volumes, and public writings – appear uncountable; notable recent journal articles include a 2018 paper in the Journal of Political Economy and a piece forthcoming in the European Economic Review.
Click here to read IIES Professors John Hassler and Per Krusell's obituary in full on the EEA web.
Last updated: October 30, 2020
Page editor: Hanna Weitz
Source: IIES