European University Institute awards Per Krusell an Honorary Doctorate.
Recently Per Krusell was awarded an Honorary Doctorate from EUI for his great contributions to the development of modern (macro) economics. Christine Chinkin (LSE) a prominent figure within international law and human rights law was the other recipient.
We at the IIES are tremendously happy and proud of Per Krusell and took the opportunity to ask him a few questions.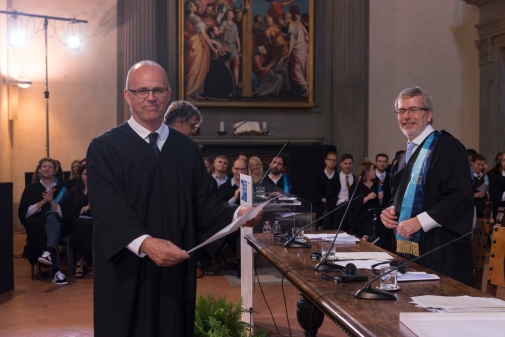 1. So Per, when did you find out about this and were you expecting it?
I received an email that looked quite anonymous so I almost deleted it. But then I decided to open it. The email had a letter attached from the EUI President and was addressed to me, revealing that I had been awarded an honorary doctorate! Since I have no particular connection with the EUI, this was quite a surprise!
2. How did it feel to receive an honorary doctorate and can you tell us a little bit about the ceremony?
When I looked into it, I realised that this honor is given to only two researchers every year and not always to economists. The past economist recipients included some really famous scholars (including Nobel laureates). Upon seeing this, I was quite shocked and of course felt even happier and very proud! The ceremony had a "laudatorio" where a faculty member described me and it became clear that I was given this honor because of my research contributions and my participation in graduate education.
3. Have you planned any seminars or lectures at the EUI in the near future?
The day before the ceremony, I gave several presentations, but those were not tied to the honorary doctorate, they just asked if I could do it since I was coming anyway. My impression is that the honorary doctorate doesn't come with any responsibilities in the future, formal or informal.
We thank Per for taking the time talking with us! If you want to know more about this and read the EUI's motivation for the award, please follow this link!