Markus Peters and Carolina Lindholm receive grant
Skandia's affiliated foundations have decided to support new research where the purpose is to study the effect of Sweden's reformed pension system on household savings. To conduct this research, SEK 1.5 million is awarded to a research team consisting of Maria Sandström, graduate student at Uppsala University, and IIES graduate students Carolina Lindholm and Markus Peters.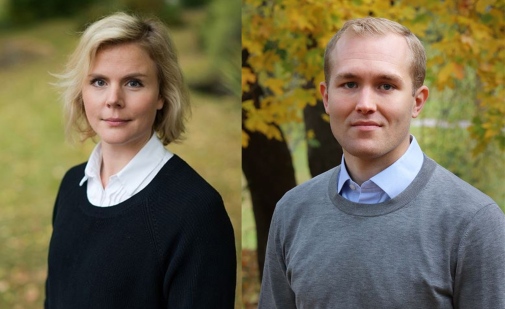 The reformation of the Swedish Pension System
During the 1990s and the first decade of the 2000s, both the public pension system and the collectively agreed occupational pensions were reformed. Sweden is thus, in an international perspective, far ahead in creating financially robust public pension systems and also in the transition from defined benefit to defined contribution occupational pensions. However, the phasing in of new systems takes several decades and many effects and outcomes are still unknown.
- Sweden stands out internationally when it comes to aggregate household savings as a share of income, which has increased significantly since the early 2000s. At the same time, Sweden is unique in terms of the major reforms made in the pension systems. Therefore, it became natural for us to ask to what extent Swedish pension reforms have contributed to the increase in the household savings rate, says Markus Peters.
A model that predicts how household income and savings are affected
The team has constructed a model that predicts how household income and savings are affected by the Swedish pension reform. However, understanding how this reform affects households, both up until today and in the future, requires a combination of theoretical and empirical work. The goal is therefore to use data on Swedish household wealth to test the extent to which the Swedes have responded in accordance with the predictions of the model. This will in turn make it possible to adjust the model in order to better understand how households respond to this type of pension reform.
Last updated: June 17, 2020
Page editor: Hanna Weitz
Source: IIES