Successful thesis defense for Has Van Vlokhoven
On 27 May, IIES graduate student Has Van Vlokhoven successfully defended his thesis: On the Cost of Capital, Profits and the Diffusion of Ideas. Due to COVID-19 it took place via Zoom and this was the first time the IIES held a defense remotely.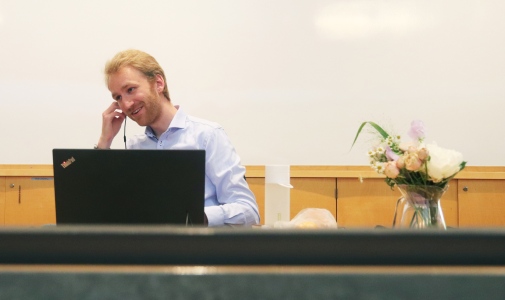 What is your thesis about?
- My thesis consists of four chapters, which are all about firm dynamics and macroeconomics. In the first two chapters I study how costly it is for firms to employ capital and how much profits firms are making. One finding is that firms are nowadays making more profits than they used to do. In chapter three I explore what might be the underlying reason behind this rise in profits. In the fourth chapter I study the diffusion of innovations across firms.
How do you feel now that you have successfully defended your thesis?
- It feels good to be done with the PhD!
What are your plans for the future?
- I am excited that I will be doing a postdoc at Columbia Business School and will start as an assistant professor at Tilburg University, where I plan to continue doing research on the same topics as in my dissertation.
Finally, how did you find the experience, defending your thesis remotely?
- It was a bit special to be the first one at the IIES to defend remotely, but I think it worked out really well. It is a pity that my family could not join the defense in person due to the coronavirus, but this way they could at least still attend. The upside of defending remotely is that those that normally could not make it to the university could now also attend.
Jan Eeckhout (Universitat Pompeu Fabra) acted as opponent during the defense. We are very grateful that he took his time to comment on Has's thesis, and that he agreed to join us via Zoom, which is a very different set-up than usual.
Many congratulations, Has, and good luck at Columbia and Tilburg! We look forward to follow your career for many years to come!
Last updated: May 28, 2020
Page editor: Hanna Weitz
Source: IIES