Successful thesis defense for Jonna Olsson!
On Friday 4 October, IIES graduate student, Jonna Olsson, successfully defended her thesis "Work, Wealth, and Well-being: Essays in Macroeconomics". Following her defense, we were dying to know more about her thesis and her future plans.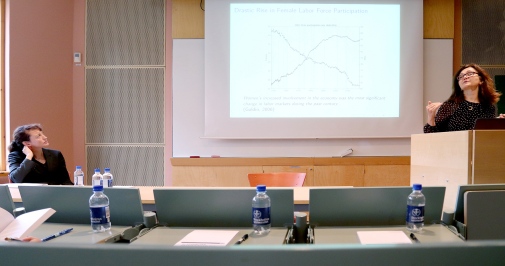 What is the main theme of your thesis?
My thesis consists of four self-contained papers. The first chapter is about the increase in female labor supply during the last century and its impact on the aggregate economy, the second is more generally about heterogeneity in labor supply, while the third and fourth chapters deal with heterogeneity in health and life expectancy. Even though all chapters are self-contained, they jointly reflect my interest in the branch of macroeconomics referred to as heterogeneous agent models and my belief that we need to analyze individual behavior and not only aggregates when trying to understand many economic issues.
How does it feel now that your thesis is in print and has been successfully defended?
First and foremost it feels good! But it also feels somewhat strange: to formally put an end to this long journey that has included so much fun, so many great colleagues and so much learning is certainly something special.
What's next for you?
I have actually already started my new position as Assistant Professor in Economics at the University of Amsterdam, so now I am looking forward to continue doing research there.
We'd like to express our sincerest gratitude to Aysegul Sahin (UT Austin) for acting as opponent during the defense, and for her insightful and interesteing comments on Jonna's thesis.
Finally, we look forward to following Jonna's research for many years to come and wish her all the best in Amsterdam!

Last updated: October 7, 2019
Page editor: Hanna Weitz
Source: IIES