Matilda Kilström has successfully defended her thesis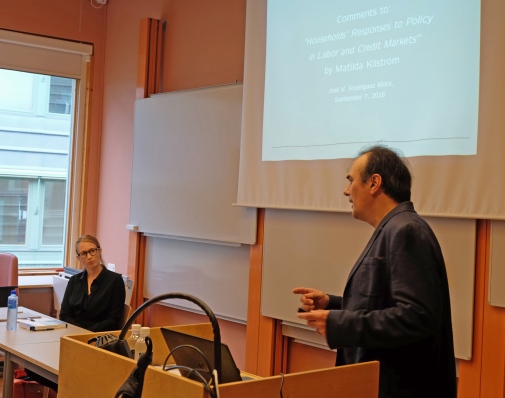 Matilda Kilström has successfully defended her thesis
Congratulations to Matilda Kilström who successfully defended her doctoral thesis "Households' Responses to Policy in Labor and Credit Markets" on 7 September. Thank you to José V. Rodríguez Mora of the University of Edinburgh, for acting as opponent.
We caught up with Matilda to ask a few questions.
What is the main theme of your thesis?
My thesis studies how households respond to policy in different settings in connection to credit and labor markets. Related to credit markets, I study how monetary policy affects household spending differentially depending on indebtedness and how parents matter for the housing market outcomes of their children as well as for the effects of macroprudential regulation. Turning to labor markets I study how temporary refugee protection affects outcomes in the host country and how risk-sharing through the welfare state matters for entrepreneurship-driven innovation.
How does it feel now that your thesis is in print and successfully defended?
It feels great but at the same time I also feel a bit nostalgic. I am going to miss the atmosphere at the IIES, but now I look forward to first celebrate and then get started on future projects!
We wish Matilda best of luck with her future endeavors!