Harry Flam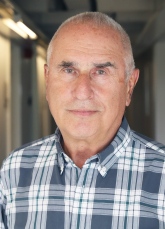 Room: A756
Telephone: +46 (0)8 16 30 67
Telefax: +46 (0)8 674 78 01
Email: harry.flam@iies.su.se
Personal web
Harry Flam is Professor Emeritus of International Economics. His research has mostly dealt with international trade, foreign direct investment and European economic integration. He is currently doing research on the effects of the European currency union on trade and foreign direct investment, on a statistical procedure to estimate changes in the intensive and extensive margins of trade, and on the performance and persistence of Swedish equity mutual funds.
Flam has held visiting positions at Tel-Aviv University, Stockholm School of Economics and The University of Chicago Graduate School of Business. He has been a member of government commissions, dean of the Stockholm University School of Business and is currently Deputy Chairman of the Expert Group on Public Finance at the Swedish Ministry of Finance.
Five most cited works (Google Scholar):
Vertical Product Differentiation and North South Trade, American Economic Review, 77:5, 1987 (with Elhanan Helpman).
Industrial Policy Under Monopolistic Competition, Journal of International Economics, 22:1-2, February 1987 (with Elhanan Helpman).
EMU: A Swedish Perspective, Boston: Kluwer Academic Publishers, 1997 (with Lars Calmfors, Nils Gottfries, Janne Haaland Matlary, Magnus Jerneck, Rutger Lindahl, Christina Nordh Berntsson, Ewa Rabinowics and Anders Vredin).
Trade Volume Effects of the Euro: Aggregate and Sector Estimates, IIES Seminar Paper, No. 746, 2006 (with Håkan Nordström).
Makroekonomi, Stockholm: Liber, 2015 (with Olivier Blanchard, Lars Calmfors, John Hassler and Per Krusell).
Last updated: June 12, 2020
Page editor: Hanna Weitz
Source: IIES