Lars Calmfors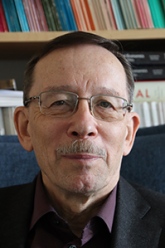 Room: A742
Telephone: +46 (0)8 16 30 76
Email: lars.calmfors@iies.su.se
Personal web
Lars Calmfors is Professor Emeritus of International Economics at IIES and Chairman of the Swedish Fiscal Policy Council, which is a government body with the task of evaluating the government's fiscal and economic policy. His main research has dealt with collective bargaining and wage setting, the determination of working time, labour market policy, macroeconomic policy and the effects of monetary union. Calmfors has been extensively involved in economic policy advising in Sweden and internationally. He chaired the Economic Council of Sweden (giving scientific advice to the Swedish Ministry of Finance) 1993-2001, the Swedish Government Commission on the EMU 1995-96, the Scientific Council of the Centre for Business and Policy Research (SNS) 1999-2006, and the European Economic Advisory Group 2006-08. He has been a member of the Committee for the Prize in Economic Sciences in Memory of Alfred Nobel at the Royal Swedish Academy of Sciences.
He was awarded the Söderberg Prize in economics 2003.
Five most cited works (Google Scholar):
Bargaining Structure, Corporatism and Macroeconomic Performance, Economic Policy 3:6, 1988 (with John Driffill).

Centralization of Wage Bargaining and Macroeconomic Performance, OECD Economic Studies, No. 21, Winter 1993.

Active Labour Market Policy and Unemployment: A Framework for the Analysis of Crucial Design Features, OECD Economic Studies, No. 22, Spring 1994.

Does Active Labour Market Policy Work? Lessons from the Swedish Experiences, Swedish Economic Policy Review, 2001:2 (with Anders Forslund and Maria Hemström).

Unemployment, Labor Market Reform, and Monetary Union, Journal of Labor Economics, 19:2, 2001.
Last updated: May 13, 2022
Page editor: Hanna Weitz
Source: IIES