Early Childhood Development Programming for the Next Generation
IIES Professor Ingvild Almås and Bet Caeyers (Research Economist at FAIR NHH) are leading the design and implementation of an ambitious Early Childhood Development (ECD) research program, studying the lives of a nationally representative sample of 6000 families living in 200 communities in Tanzania.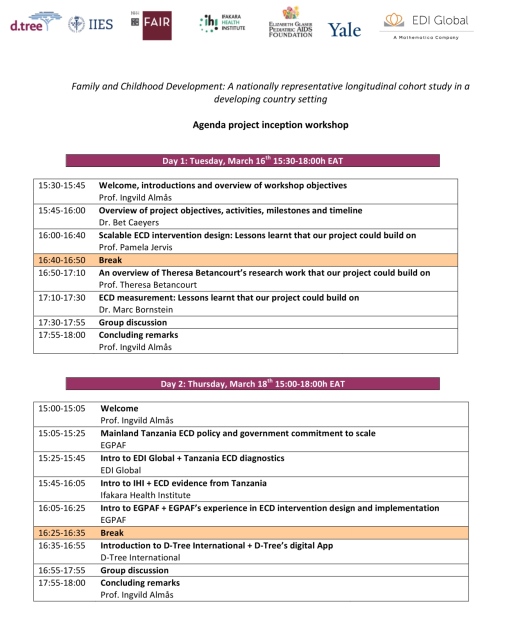 It is estimated that 200 million children under five globally have poor cognitive development, a lack of health and nutrition and inadequate stimulation and care. Poor developmental outcomes for children under five can last a lifetime and even extend through an intergenerational cycle of poverty and marginalization. In an attempt to combat this the program called 'Kizazi Kijacho' ('Next generation' in Swahili) will use novel longitudinal and experimental data to provide actionable evidence for policy makers, donors and practitioners about the design of cost-effective, scalable, sustainable and integrated ECD parenting programs, from the prenatal period until the child's 3rd year of life – the "first 1000 days".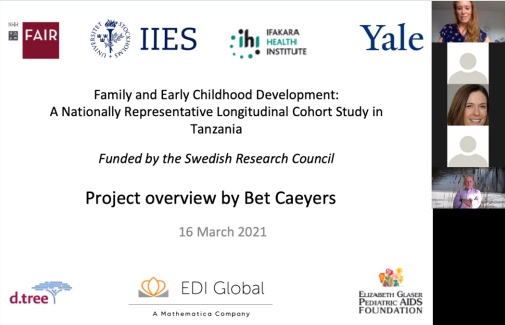 As part of this program, a project funded by the Swedish Research Council recently started its activities through a workshop. The project will build the core infrastructure for the Kizazi Kijacho program and aims to make major scientific and policy contributions to the ECD sector, globally and nationally in Tanzania.
For questions or more information about the program, contact Ingvild and Bet via: kizazikijacho@iies.su.se
Last updated: March 22, 2021
Page editor: Hanna Weitz
Source: IIES

Upcoming Seminars and Events