The Swedish Manufacturing Census: Digitization and Public Access
Ingvild Almås, Timo Boppart and Konrad Burchardi have been awarded a grant of 7 385 000 SEK from Riksbankens Jubileumsfond to support their project "The Swedish Manufacturing Census: Digitization and Public Access."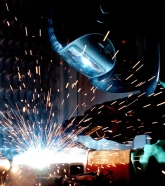 Since the middle of the 18th century, the Swedish state has annually collected data on Swedish manufacturing companies. The data includes, among other things, information on each company's number of workers, capital stock and sales value. The continuous collection and the broad coverage make the Swedish manufacturing census an internationally unique dataset, which has the potential to shed new light on the process of structural transformation and industrialisation. The project aims to digitise this data in it's entirety, document the data, and create the infrastructure to make the data easily accessible to researchers and the interested public. The goal is to create a dataset of international class that can become a standard source for studies of industrialization and economic development from the 18th century onwards, both in Sweden and abroad.
A majority of the granted funding will be used to hire qualified research assistants who will digitise the historic records, as well as to fund the construction of a web-interface with the aim of making the data publicly available and easily accessible. The work on this project is expected to be completed by 2022.
Last updated: March 5, 2020
Page editor: Hanna Weitz
Source: IIES

Upcoming Seminars and Events