What do Temporary Layoffs Tell Us About the Firm's Expectations?
This project is a joint venture between IIES Assistant Professor Arash Nekoei and Professor Andrea Weber at Central European University.
Dealing with the pandemic, policymakers across the world are facing a myriad of unanswered questions. One of those questions is to what extent different sectors and firms are affected, and how their own forecasts of the future of their business look.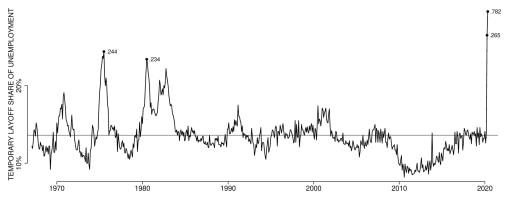 Note: Monthly shares from January 1967 to April 2020 in the U.S.. The share is labeled for some historically high levels: June 1975, June 1980, March and April 2020. The last month's share is attenuated to make the rest of the data visible. The horizontal line shows the average TL share of unemployment during the entire period. Source: Current Population Survey (CPS)
This research argues that part of the response is hidden in the share of temporary layoffs among laid-off workers. Temporary layoffs, as opposed to permanent layoffs, are told by their employer that they would eventually be rehired, and this information is captured in Employment Office records around the globe. The fact that the share of temporary layoffs during the pandemic is so high (See Figure above) bodes well if we believe in history as a guide: A higher share of temporary lay-offs is associated with higher rates of rehiring by their old employer, not only of temporary layoffs: When employers lay off more workers temporarily, the chance of them rehiring even those workers that were let go without a promise to rehire, increases significantly. Moreover, more temporary layoffs today signal less new layoffs in the future.
Click here to read the paper in full.
Click here to read the VOX EU research article.
Last updated: July 3, 2020
Page editor: Hanna Weitz
Source: IIES

Upcoming Seminars and Events