Seminars
Each year, the IIES invites prominent researchers from all over the world, to hold seminars in our Seminar Series.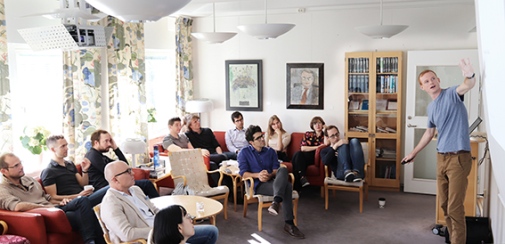 IIES seminars usually take place on Tuesdays and Thursdays in room A822 (a.k.a the IIES Seminar Room), unless otherwise stated. The seminars are in person at 13:00 unless otherwise stated, with an option to follow via Zoom. For more information contact IIES Seminar Series Administrator Ulrika Gålnander at ulrika.galnander@iies.su.se.
For a list of upcoming seminars and events at the IIES click on Current Seminars. Lists of past events can be accessed via Past Seminars.
IIES/SNS International Policy Talks is a collaboration with the Centre for Business and Policy Studies (SNS) where the mission is to bring insights from leading international economists to the Swedish policy debate. These talks are hosted by the SNS and require prior registration via their website.
You can also subscribe to seminars using Google Calendar.
Last updated: November 23, 2021
Page editor: Hanna Weitz
Source: IIES

Upcoming Seminars and Events