Research
The Institute for International Economic Studies (IIES) is a research institute at Stockholm University. Founded in 1962, it has become one of the leading institutions in Europe in advanced research in economics, broadly defined.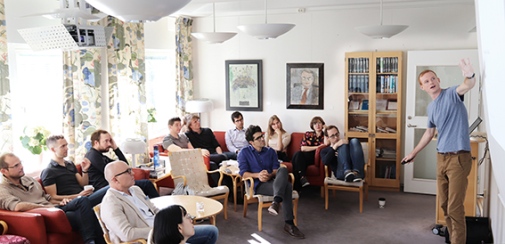 The mission of the IIES condenses the three broad goals of Stockholm University at a top level: to train PhD economists, conduct cutting-edge research, and actively engage in high-level public policy discussions in Sweden and beyond.
The IIES Research Environment
The IIES has a global aim with its research. However, its international profile is broader than that. A significant fraction of the faculty as well as PhD students, along with visiting seminar speakers and researchers, come from a wide variety of countries.
Since the mid-1990s, all recruitment of younger researchers takes place in the yearly international market for new PhD economists.
The working language at the IIES is English.
Seminars
The IIES' seminar series is a twice-weekly event. The program invites both internationally renowned researcher as well as promising younger researchers. The seminars usually take place on Tuesdays and Thursdays in room A822, unless otherwise stated.
During the Covid-19 pandemic the IIES seminar series has for the most part been moved online and will stay so until further notice.
The IIES also organizes a joint seminar series – the IIES/SNS International Policy Talks – in collaboration with the Centre for Business and Policy Studies (SNS). The aim of this Policy Talks series is to bring insights from leading international economists to the Swedish policy debate.

Last updated: June 17, 2021
Page editor: Hanna Weitz
Source: IIES

Upcoming Seminars and Events