Research
The IIES is a research institute at Stockholm University, founded 1 July 1962. The main objective is to produce outstanding research for publication in leading international journals.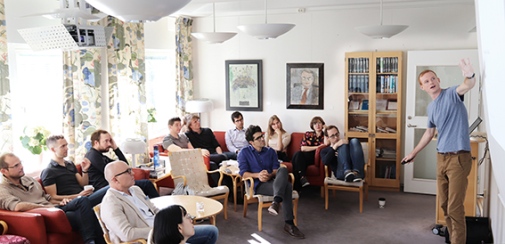 The IIES research environment
A large number of visitors come to the IIES every year to present new findings, cooperate with the Institute's researchers, and conduct their own research. Since the mid 1990s, all recruitment of younger researchers takes place in the yearly international market for new Ph.D. economists. At the other side of this market, young researchers with a recent Ph.D. thesis written at the IIES have received job offers from many internationally renowned universities. All researchers at the IIES teach in the Undergraduate and Graduate Programs in Economics at the University.
Seminars
The IIES annually invites eminent researchers from universities all over the world to give seminars on recent research. These seminars usually take place on Tuesdays and Thursdays in room A822, unless otherwise stated
Last updated: November 7, 2019
Page editor: Hanna Weitz
Source: IIES

Upcoming Seminars and Events